For the month of August, there were 4,380 home closings reported by Greater Nashville Realtors. This figure is up 6% from closings reported in the same period last year. Kristy Hairston, Greater Nashville Realtors president stated "The housing market is in full- on recovery mode. Over the last three months we've seen continued growth in home sales across the region. An increase in corporate relocation, second home purchases and emerging first-time buyers coupled with low-interest rates continue to make Middle Tennessee a leader in market recovery and with another month of high pending sales, September could bring a strong third quarter." Here are the statistics for the Greater Nashville Region for the month of August: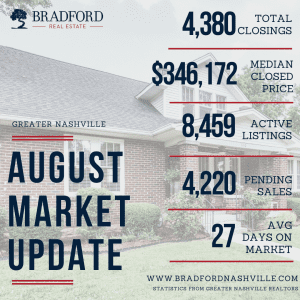 Hairston also stated "Residential housing inventory remains low across the region due to a decreased amount of available homes for sale in various areas. Lack of housing supply, means homes that are priced right are selling fast. If you are looking to navigate our vibrant, local housing market, it is imperative to use a Realtor.  More than an app, a Realtor knows the market and adheres to a strict code of ethics, thus ensuring you have accurate information allowing customers to make the best decision regarding their housing needs."
Our Real Estate Professionals at Bradford Real Estate were fortunate enough to serve 53 families during the month of August producing a sales volume of $20,836,999. Some of the top producing professionals at Bradford Real Estate for the month of August included: Kok Hai Tan, Scoop Roberts, and Grant Moffett. The top producing teams at Bradford for the month of August were Felts Partners, Waggoner Team, and The Richardson Group.
If you are looking to buy or sell a property, call us today at (615)279-5310 and we'll connect you to one of our Real Estate Professionals.
Quotes and Data are from Greater Nashville Realtors: https://www.greaternashvillerealtors.org/news/2020/09/08/home-sales-release/housing-market-continues-to-recover-across-middle-tennessee/