Weber To Launch Brokerage's New Education Program: Bradford Academy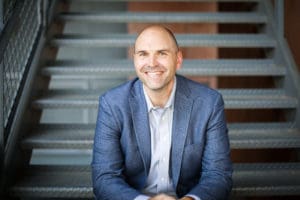 NASHVILLE – Bradford Real Estate LLC, a leading real estate brokerage in Nashville, today announced an addition to the team with the hiring of Josh Weber, who joins Bradford as its Training & Education Broker.
Weber comes on board to help spearhead and lead its new training program, Bradford Academy, which is designed for real estate agents who want a career in real estate but need guidance on how to start and succeed.
Additionally, Weber will serve alongside Principal Broker Scott Richardson as a resource to many veteran agent entrepreneurs in the Bradford Family who need peer consulting.
"We're thrilled to have Josh in the office to help us launch Bradford Academy," said Richardson. "His background in teaching and real estate is ideal for the role. He will make an immediate impact in our commitment to agent success."
Weber holds a master's degree in educational leadership from Lipscomb University and brings over 20 years of educational experience from his time as a teacher at Lipscomb Academy. The licensed real estate agent also holds three years of relevant industry experience, during which he has produced over $25M in sales volume since 2018.
"Over the course of my career, I've always gravitated towards positions of teaching and mentoring," Weber said. "Simply put, I really enjoy helping others and watching them succeed. This opportunity positions me in front of many great agents who are seeking guidance on a career transition that I recently completed. I couldn't be more excited to get started."
Bradford Academy is a one-year curriculum, taught by Weber, that enrolls new agents on a monthly basis. Agents in the program will receive hands on support, training, and broker-supplied leads to help start their real estate careers.
For more information about Josh Weber or Bradford Academy, contact Scott Richardson at 615-720-7833 or [email protected]. For media requests, please contact Alex Wassel at [email protected].
About Bradford Real Estate LLC
Bradford Real Estate LLC was founded in 2008 by Nashville local Kyle Felts. Since inception, the company has grown to serve over 3,000 families in Tennessee and report a sales volume of $1 Billion in that time. Bradford prides itself in its culture of support and encouragement to the community and its talented family of agent entrepreneurs. For more information call 615-279-5310 or email [email protected].