Bradford Real Estate Adds Mollie Mazile as Vice President of Growth & Operations
Meet the Newest Addition to the Bradford Team: Mollie Mazile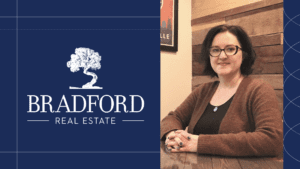 NASHVILLE – Bradford Real Estate LLC, a leading real estate brokerage in Nashville, today announced an addition to the team with the hiring of Mollie Mazile, who joins Bradford as its Vice President of Growth and Operations.
In her role, Mollie is tasked with the day-to-day management of the brokerage with a focus on maximizing growth and the efficiency of operations.
"I've always been around real estate and having the opportunity to work directly with a brokerage like Bradford, who is already positioned for immense growth, was an easy decision for me," Mollie said.
"It's easy to see how Bradford's strong values and entrepreneurial spirit galvanizes their culture of support to breed a readiness for growth."
Mollie brings over 20 years of business leadership and sales management experience to Bradford.
When it comes to making an impact, Mollie says she lives by one simple motto: Live by faith, not by fear.
"Bradford Real Estate is thrilled to have Mollie step into a leadership role for the brokerage," Founder & CEO Kyle Felts said.
"Adding her expertise to build upon our already strong foundation will be a big step towards reaching our company goals. I look forward to seeing her leadership at work as we pursue the roll out of additional brokerages around Middle Tennessee."
For more information about Mollie Mazile or Bradford Real Estate contact us by phone at 615-279-5310 or email [email protected]. For media requests, please contact Alex Wassel at [email protected].
About Bradford Real Estate LLC
Bradford Real Estate LLC was founded in 2008 by Nashville local Kyle Felts. Since inception, the company has grown to serve over 3,000 families in Tennessee and report a sales volume of $1 Billion in that time. Bradford prides itself in its culture of support and encouragement to the community and its talented family of agent entrepreneurs. For more information call 615-279-5310 or email [email protected].