This month last year…
marks a significant turn in the real estate market. The city of Nashville was devastated by the tornado, and many families lost their home. This month also marks the first cases of COVID-19 in the community. March of last year was a trying time for our city, and completely changed the industry and how it was conducted. Unsure of what was to come, Greater Nashville Realtors conducted most business virtually, adapting to the new changes and challenges that 2020 brought.
Today…
Nashville is still one of the nation's hottest cities for real estate, and the housing inventory remains at a historic low.  For the month of February this year, there were 2,919 total closings. The median close price continues to climb every month from last year's median of $305,950. The median price for a residential house for the month of February averaged $357,150 and is predicted to increase. From both a buying and selling perspective, it is important to have a knowledgeable and adaptable real estate professional that understands the market.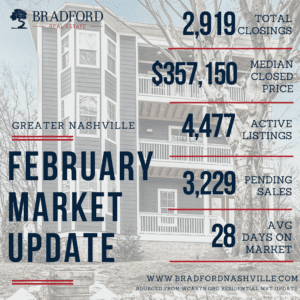 Source:
https://www.greaternashvillerealtors.org/news/2021/03/08/real-deal-column/the-moment-homebuying-changed/