While we're not able to have as much face time with our clients these days, it's more important than ever to stay connected with them virtually and social media is a great way to do so. In recent years, social media has become one of the most important marketing tools for all types of businesses, including Real Estate. A study by the National Association of Realtors found 77% of Realtors actively use social media and 47% of real estate businesses reported that social media results in the highest quality leads versus any other source. 
However, social media only becomes a helpful marketing tool when you use it, and use it effectively. Building a successful social media account doesn't happen overnight, but here's a rundown of how to get started. 
Define Your Goals: What is the overall purpose of your account? As a real estate professional, social media can be a great way to generate leads, advertise listings, reinforce your brand, build and maintain connections. Knowing the purpose of your account and defining measurable goals can help you build a social media strategy that brings in results. The NAR study also found that 99% of millennials begin their home search via social media.
Decide on a Platform: Your target audience will determine which platform(s) you will want to use. For example, Facebook tends to appeal to an older crowd than Instagram would; however, both can be very useful for your real estate business. Instagram is more focused on photos with short captions- a great place to post a new listing or an infographic about the current market conditions. Facebook on the other hand is more information based, and is a great place to post articles and listings. LinkedIn is more of a professional network. While you may not find your future clients on it, it can be a great way to grow your database professionally.
Create a Content Strategy with Quality Content: Creating a content strategy is a good way to put all your ideas in one place and plan out your social media calendar ahead of time. It will save you time in the long run and help you stay consistent with your posts. Create a daily schedule such as on Mondays you post client testimonials, Wednesdays post something informational about the real estate market and Fridays you post any open houses you are hosting over the weekend. Make sure the content you're creating is also useful and relevant to your target audience. You can use a social media management website such as Later.com or Buffer.com which allows you to easily schedule posts in advance on multiple social media platforms.
Stay Engaged: Now you've scheduled this entire week's posts, but you aren't finished quite yet. Stay engaged with your media by replying to comments and liking/commenting on the content of others. This can help show you care and build connections. Also, repost any information you think your target audience might find helpful from other sources. 
Report & Analyze: Finally, one of the most important parts to social media marketing is figuring out whether it's working or not. While you can measure your page's success by the amount of leads you generate or followers you obtain, you can also go much deeper into the insights of most of your social media platforms. This will help you figure out if you're actually reaching your audience and if they're finding your content useful. By making your business accounts on social media, you are able to see tons of analytics and figure out what's working and what isn't. Analyze statistics such as reach, impressions, demographics, click-through-rates, and relevancy. By doing so, you can save yourself time and effort by streamlining your content to exactly what your target audience wants to see. 
Have questions about social media marketing for your real estate business? Call us today at 615-279-5310 or email us at [email protected], we'd love to help!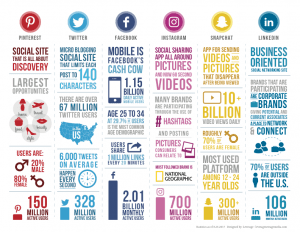 Graphic Courtesy of LYFE Marketing.