5th and Broadway, an outdoor shopping and restaurant experience  is a largely anticipated addition to downtown Nashville. What was former Nashville Convention Center has transformed into retail, restaurants, office space, apartments, and entertainment all in one. This project was years in the making, and finally officially opened in Nashville this past March, with other parts still opening. This development is so unique to Nashville because it has so many different spaces.
The Assembly Food Hall has already become a major culinary destination. It is one of the more unique parts of the 5th and Broadway, with 100,000 square footage that includes a live rooftop music venue, bar, and over 20 restaurant food options ranging from Nashville favorites to imports from other cities.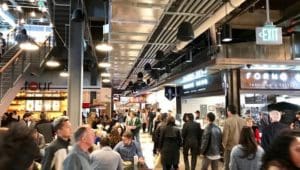 There is also a lively shopping scene, of local Nashville boutiques like The Nash Collection, to familiar stores like Sephora, Free People, and Apple. H&M is another store that is coming to the outdoor shopping experience. The building itself is also home to the National Museum of African American Music, with the Ryman Auditorium across.
The most distinct part of 5th and Broadway is the residential space it provides. The Place at 5th & Broadway is the tallest for rent apartment in Tennessee.