The Greater Nashville region has a population of over 2 million and is home to many distinctive communities and people. Here's a closer look at some of the areas Nashvillians call home.
Columbia – Population: 40,000 | Median Home Price: $206,000 | Columbia lies along the banks of the Duck River and is a fast-growing community with deeps roots in the agriculture industry. Columbia is nicknamed the "Mule Capital of the World" and hosts an annual Mule Day Festival each spring, bringing in 150,000 visitors. Residents of Columbia have plenty of opportunities to keep themselves busy with the various local parks, wineries, distinctive shops, and the Art District.
Lebanon – Population: 36,000 | Median Home Price: $279,000 | Sitting in Wilson County, Lebanon home to the Cracker Barrell chain headquarters, Cumberland University, and Wilson County Expo Center, a popular site for trade shows and events. Lebanon is also home to 10 miles of hiking trails that lie in Cedars of Lebanon State Park.
Hendersonville – Population: 58,000 | Median Home Price: $350,000 | One of the fastest growing towns in Tennessee, Hendersonville offers a variety of award-winning parks and top-performing schools that attract young professionals and families. It also offers 26 miles of shoreline on Old Hickory Lake, a hot spot or boating, fishing, and recreational activities.
Murfreesboro – Population: 147,000 | Median Home Price: $266,000 | As the largest city in Rutherford County and one of the fastest-growing communities in TN, Murfreesboro's population has seen a 35% increase since 2010. It is home to Middle Tennessee State University which hosts over 20,000 students and has a number of major employers including National HealthCare Corp. and Amazon. Popular Murfreesboro events include the annual Main Street JazzFest and Uncle Dave Macon Days.
Clarksville – Population: 158,000 | Median Home Price: $193,000 | Clarksville is a bustling community with attractions for all agents to enjoy. Clarksville offers a wide range of outdoor activities including multiple parks with hiking and biking trails. The community also offers a variety of local and ethnic food options, along with breweries, a distillery, and winery.
La Vergne – Population: 38,000 | Median Home Price: $222,000 | A major benefit residents will find in the city of La Vergne is the affordability of living in this community. With well-regarded public schools and in proximity to top-quality colleges and universities, La Vergne is a great community for a variety of ages. The nearby Percy Priest lake offers a variety of recreational activities and hosts the La Vergne's Old Timers Festival at Veterans Memorial Park, a 35 year long tradition. This festival is a local favorite which provides residents with live music, food, crats, and local vendor booths.
Mt. Juliet – Population: 37,000 | Median Home Price: $334,000 | With a beautiful location between Percy Priest and Old Hickory Lakes, this Wilson County community is within a great proximity to the Nashville International Airport and downtown Nashville. The Providence Marketplace in Mt. Juliet is the largest shopping center between Nashville and Knoxville.
Brentwood – Population: 42,000 | Median Home Price: $708,000 | One of the most desirable suburban locations in Tennessee, the community of Brentwood is known for its strong business community and high standard of living. This Williamson County town features quality schools, abundant recreational amenities, and easy access to the happenings in and around Downtown Nashville.
Gallatin – Population: 43,000 | Median Home Price: $273,000 | With lakefront living options, miles of greenways, and a historic downtown square, Gallatin is a growing Tennessee Community. The population has increased by 41% since 2010 and is packed with natural beauty such as the Cumberland River and Old Hickory Lake. The historic downtown is home to signature eateries, unique and specialty shops, and hosts numerous events throughout the year.
Spring Hill- Population: 41,000 | Median Home Price: $297,314 | Known as the home of the General Motors' Spring Hill Manufacturing Plant, Spring Hill straddles Maury and Williamson counties and is a convenient location for businesses and residents looking for good transportation channels. Recently, a 55+ lifestyle community was added to Spring Hill which is home to over 600 residents.
Franklin – Population: 83,000 | Median Home Price: $510,000 | Franklin is a suburban community with historical attractions, an abundance of shopping and beautiful parks in Williamson County. The American Preservation Association named this city's historic downtown district on of the Top 10 Great U.S. Neighborhoods. The students of Franklin routinely have some of the top test scores in the state, and Franklin is home to excellent healthcare providers and major corporations.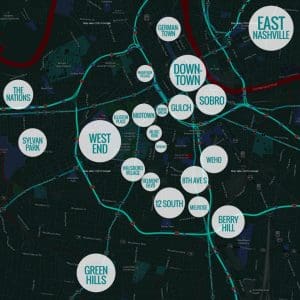 Source: livability.com/TN/Nashville